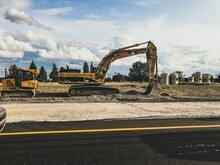 Louvec Contracting employs earthworks and excavating crews to complete even the most challenging  and complex jobs. Our crews will efficiently complete all projects whether they are commercial, municipal, industrial, or residential.  If your project involves new site development, bulk import/export of fill materials, removal of an existing parking lot or roadway you can count on us to ensure the job is executed safely and on schedule.
The first step that our team will complete is to create a comprehensive risk management strategy, focusing particularly on environmental, financial and health and safety mitigation.
By involving us early on in your project, our quality and project management procedures are applied and implemented to ensure your project is completed on-budget, on-time and to your requirements.